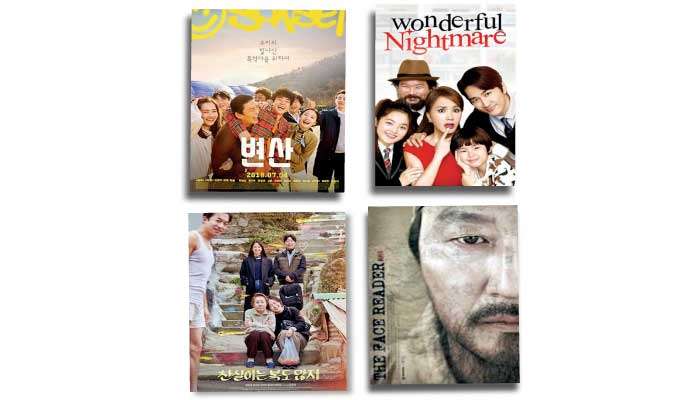 Korean Film Festival this weekend at BMICH
A synopsis of the Korean film lineup at the 2022 Korean Film Festival:
In an attempt to share Korea's rich film culture which is adored by a worldwide fan base, including many Sri Lankans, the Korean Embassy in Colombo and the Korean Film Council (Kofic) organize the "Festival of Korean Film 2022" which will take place from September 23 to 25 at BMICH in Colombo.
The festival is being held after a two-year hiatus due to the COVID-19 pandemic.
The Korean Film Festival features four critically acclaimed Korean films, starting with "Wonderful Nightmare" as the opening film. This charming and heartwarming film starring a famous Korean singer and actress, Uhm Jung-hwa and a famous Korean actor Song Seung Heon, is said to be "very well balanced with a talented cast, humor, warmth, a serious problem and then a bond of benevolence.The film "The Face Reader" has a stellar cast, including Lee Jang-jae, winner of the Emmy award for best lead actor for his epic performance in the Netflix series "Squid Game", and the best actor at the 75th Cannes Film Festival, Song Kang Ho, well known for his performance in the film "Parasite".
The upcoming movie, "Sunset in My Hometown," has an inspirational story about a Korean rap artist that will appeal to many K-pop fans in Sri Lanka. Considered "charmingly hilarious", this film features Kim Go-eun, well known in Sri Lanka for her incredible performance in "Goblin: The Lonely and Great God". The latest film, "Lucky Chan-sil," also features spectacular performances from Korean actors, including Yuh-Jung Youn, who won the Academy Award for Best Supporting Actress for her performance in the movie "Minari." . Korean cinema has transcended national borders and marked a remarkable history. With this in mind, the Korean Embassy hopes that audiences in Sri Lanka will enjoy the Korean Film Festival this year.
According to the Korean Media Rating Board, most films screened at the 2022 Korean Film Festival are aimed at audiences 15 and older. Audiences under the age of 15 are requested to be accompanied by a parent/adult guardian. Admission is free on a first-come, first-served basis. Due to the COVID-19 pandemic, please maintain social distancing and wear face masks.
wonderful nightmare
The movie Wonderful Nightmare revolves around a clerical error in Heaven that leads to Yeon-woo's untimely death. To fix the mistake, she must live like another woman for a month.
The face reader
The Face Reader is about Nae-kyung who is able to judge a person's personality and habits by looking at their face. Due to his abilities, he becomes involved in a power struggle between Prince Sooyang and Kim Jong-Seo.
Sunset in my hometown
This inspiring film is based on the struggles of a Korean rapper, on his artistic journey to succeed in the city.
Lucky Chan-sil
Chan-sil, a film producer, finds herself out of work with the sudden death of her longtime collaborating director. She moves into a market hall in a poor neighborhood. But something is wrong with his new elderly landlady.