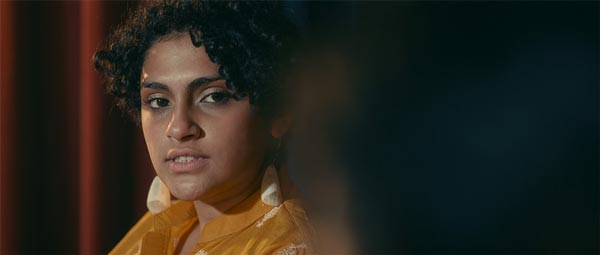 The Everyday Show will screen at the 2022 New Jersey International Film Festival on Saturday, June 11
NEW | FEATURES | PREVIEWS | EVENTS
By Jack Greenberg
originally published: 06/09/2022
The everyday show by Viren Shinde was obviously done with so much care and immense thought. The complexity of the subtext, the ideas this film alludes to, saying the unsaid without saying anything. At just over ten minutes, every moment of this film has purpose, meaning, and doesn't waste a single second. Through stunning visuals, dialogue, and body language, this is a film that treats its audience like a collaborator. He doesn't hold the viewers' hand, but expects audiences to pick up on the subtlety and hints mentioned throughout.
This film nails the use of subtext. There are so many perfect qualities in this movie, and subtext, such a hard-to-master technique is taken to another level here. The plot is apparently about someone promoting their new movie on a talk show, a typical event on any late-night show. However, a deeper meaning culminates when Diya Agarwal, the filmmaker, says "…South Asian stories matter" and the host continues with "Of course, of course, absolutely. All stories matter…". probably referring to the response to movements like Black Lives Matter and Stop AAPI Hate By saying "all stories matter" it downplays the importance of sharing South Asian stories because they are not told as much as other stories in America. Similar to saying "all lives matter", this phrase downplays the plea for equality in a time when people are arrested and murdered solely because of the color of their skin. Although all lives matter, all lives aren't lost because of how a person looks, they're lost because of targeted attacks on certain people Pretending black lives matter and ending the hate of AAPI are both important because it s movements inform and educate large groups of people about these unnoticed attacks; this push is to prevent attacks from reoccurring and achieving equality. If all the stories really mattered then a push for equality wouldn't be necessary like we would have, but sadly there's still a long way to go. So yes, all stories matter, but South Asian stories matter a little more right now because they're underrepresented. Spreading these stories to more people educates and informs. That also seems to be the goal of the film. This film is itself an educational tool to show the resistance and hardship faced by South Asian people and South Asian Americans in America.
This movie treats its audience like they're having a conversation with a friend who already knows the details. Everything in the film happens in real time. All information is developed at this time, perfectly mimicking the feel of a talk show. This feeling of dissociation ruminates throughout the film as if everything is fine but something is a little off. A strangeness lurks in the first act, creating tension. The tension is released when a fight breaks out and the weirdness spills over into acts two and three. Switches between grainy distant camera quality and high-quality close-up shots heighten the tension. Switches are probably used to indicate an emotional change, but this movie takes things a step further. The strangeness is very strong because the viewer is literally immersed in the scene when the high quality camera is used. It's invasive. Simultaneously, the camera acts as its own character, interfering in a private conversation between host and guest. As mentioned earlier, this movie is just over ten minutes long but uses every second, every visual, every opportunity to do something big.
This film does something exceptionally unique where it emphasizes emotions to move the story forward rather than character development or plot. As the audience discovers the dimensions and events of the characters, the unspoken emotions drive the story. The mix of allusions and emotional depth creates this chilling, high-stakes atmosphere that leaves the viewer on the edge of their seat. There are so many layers in this movie. So many great ways to communicate a message are used, which makes the film so captivating to discuss.
The everyday show is a phenomenal must-see movie. I would recommend it to anyone and would recommend a new watch on top of that. There are so many intricacies throughout this intense emotional journey. Writer and director Viren Shinde put so much attention and care into this film and it really pays off.
The Everyday Show screens as part of the 2022 New Jersey International Film Festival as part of the No. 3 Shorts Program on Saturday, June 11 online for 24 hours and in person at 5 p.m.
Buy tickets and get more information here.
Advertise with New Jersey Stage for $50-$100 per month, click here for more info
---
27e The annual festival will take place on select Fridays, Saturdays and Sundays until June 12. The festival will be hybrid as we will present it online as well as in-person screenings at Rutgers University. All films will be available virtually via video on demand for 24 hours on their broadcast date. Every ticket or Festival Pass purchased is good for virtual and in-person screenings. In-person screenings will take place at Voorhees Hall #105/Rutgers University, 71 Hamilton Street, New Brunswick, NJ beginning at 5 or 7 p.m. on the day of their show. Tickets: $15
For more info go here: https://2022newjerseyinternationalfilmfestival.eventive.org/
Advertise with New Jersey Stage for $50-$100 per month, click here for more info
---