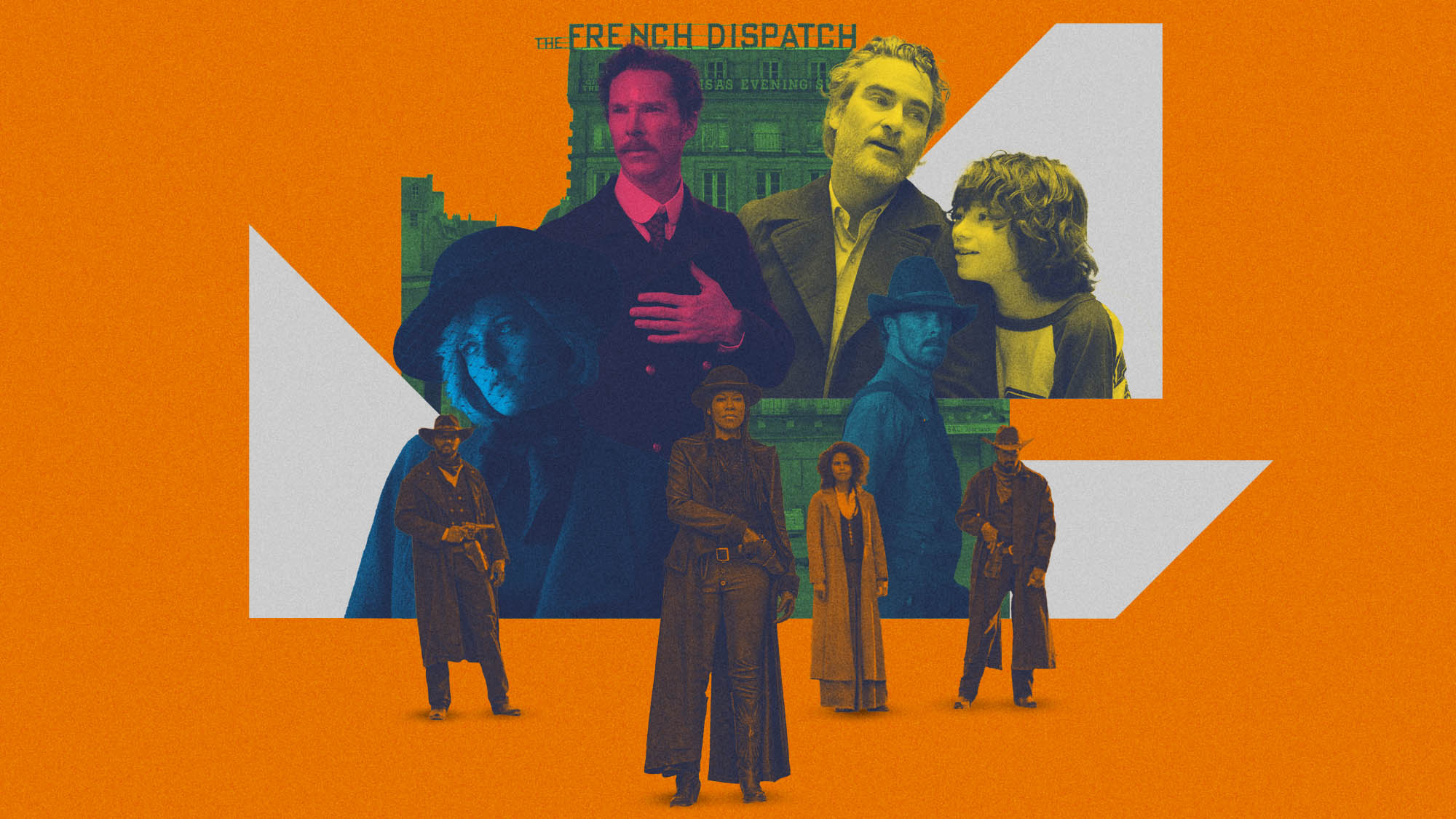 Your guide to the Virginia Film Festival 2021, starting Wednesday
[ad_1]
On Wednesday, the Virginia Film Festival opens with "The French Dispatch" by Wes Anderson, kicking off a series of highly anticipated films.
The film festival, in its 34th year, is a program of the University of Virginia and its office of the provost and vice-provost for the arts. This year, it will screen over 85 films at various locations around UVA's Grounds and Charlottesville, including a drive-in location at Morven Farm.
Check out the guide below for more on some movies and events. For a full list of movies and ticket information, visit virginiafilmfestival.org.
Feature films
With a large and diverse selection of movies to choose from, here are a few to watch out for:
Opening film: "The French Dispatch", Wednesday, 7 p.m. (Paramount Theater and Morven Farm): Wes Anderson's latest film is a love letter to journalists, bringing to life the stories of the latest issue of an American magazine published in a fictional 20th century French town. The film recently received a standing ovation nine minutes after its Cannes premiere.
Gala Screening: "The Harder They Fall", Thursday, 8:30 p.m. (Paramount Theater): In a modern take on true cowboy stories, outlaw Nat Love (Jonathan Majors) discovers that Rufus Buck (Idris Elba), the man who murdered his parents, is released from prison. Nat gathers teams to find Rufus, who gathers his own team in anticipation. The two groups draw closer to a deadly clash in this action-packed revisionist western.
Gala Screening: "Spencer", October 29, 8:30 p.m. (Paramount Theater): This film is a reimagining of the events that prompted Princess Diana (Kristen Stewart) to end her marriage to Prince Charles (Jack Farthing) and leave the British Royal Family. This biographical and psychological film delves into the complex inner world of a woman who "decides, in a way, not to be the queen" over the course of three fateful days.
Main Film: "The Power of the Dog", October 30, 8:30 p.m. (Paramount Theater): In a powerful exploration of masculinity and love, set in 1925 in the American West, charismatic breeder Phil Burbank (Benedict Cumberbatch) inspires fear and awe in those around him. But when his brother George (Jesse Plemons) brings home his new wife Rose (Kirsten Dunst) and son, played by newcomer Kodi Smit-McPhee, Phil finds himself exposed to the possibility of love. This film has just come out of its recent world premiere at the 78th Venice Film Festival, where director Jane Campion won the Silver Lion for Best Director.
Gala screening: "The electric life of Louis Wain," Oct. 31 10 a.m. (Paramount Theater): Benedict Cumberbatch, on the heels of an acclaimed performance in "The Power of the Dog", also wins accolades for his portrayal of Louis Wain, an eccentric artist. In the film, Wain's highly creative and at times psychedelic cat paintings help transform public perceptions of felines forever.
Closing Film: "C'mon, C'mon," October 31, 8 p.m. (Paramount Theater): Johnny (Joaquin Phoenix) and his young nephew (Woody Norman) forge a tenuous but transformational relationship when they unexpectedly come together in this delicate and deeply moving story about the bonds between adults and children, and between past and future.
Special guests
A wide variety of actors and filmmakers will flock to Charlottesville for the festival, including:
Martha plimpton, winner of an Emmy Award, will come to the Virginia Film Festival for a tribute event highlighting her remarkable career, and for a screening of her latest film, "Mass," which follows a private conversation between two groups of parents as they are trying to move on, years after an unspeakable tragedy has torn their lives apart. (Oct. 30, 4 p.m., Paramount Theater)
Jeremy O. Harris will receive the 2021 American Perspectives Award for Outstanding Achievement in Cinema by the Virginia Film Festival. Harris is an award-winning playwright and actor and recently co-wrote A24's 2021 film "Zola", which will screen at the festival. He is a co-producer of the second season of the hit series "Euphoria" and recently appeared in the HBO Max reboot of the hit series "Gossip Girl". (Oct. 31, 5:30 p.m., Culbreth Theater)
Strong danny is the writer and executive producer of the new Hulu limited series "Dopesick". Strong wrote and produced "Recount" (2007) and "Game Change" (2008), both of which went on to become award-winning HBO films. He is a prolific writer, director and producer, working on films including "The Butler" (2013), "The Hunger Games: Mockingjay, Part I and II" (2014; 2015) and his directorial debut in 2017, "Rebel in the Rye." Strong was the co-creator and executive producer of the FOX drama "Empire". As an actor, he played Jonathan in "Buffy the Vampire Slayer", Doyle in "Gilmore Girls" and appeared in seasons 4 and 6 of "Mad Men". (Oct 30, 12:30 p.m., Paramount Theater)
Drive-ins in Morven
Following its popular debut in 2020, the Drive-In film series returns to quaint Morven Farm in eastern Albemarle County with lineup that includes spooky classics for the Halloween season.
All Drive-In Movies at Morven Farm will start at 7 PM.
Spotlight on cinema in Virginia
The festival will feature a diverse collection of films made in Virginia or having roots in the Commonwealth.
"Fix the walls" Thursday, 6:30 p.m. (Culbreth Theater) – Artist Hamilton Glass challenges 30 artists from different cultural backgrounds to collaborate on 16 murals in Richmond on race, status and experiences. The film shows how the artists got to know each other through difficult conversations and what these murals came to symbolize.
"Machinery of Dreams", October 30, 11 a.m. (Culbreth Theater) – From Charlottesville filmmaker Eric Hurt, 8-year-old Lily will stay with her aunt and grandmother after her mother is hospitalized due to a car accident. Her grandmother, who suffers from dementia, tells Lily a fairy tale to pass the time, but it becomes clear that this is not just any fairy tale as the girl ventures into history to try to save his mother.
"Dopesick", October 30, 12:30 p.m. (Culbreth Theater) – Starring and produced by Michael Keaton, and set in Virginia, this film examines how one company sparked the worst drug epidemic in American history. The series takes viewers to the epicenter of America's fight against opioid addiction, from the boardrooms of Big Pharma, to a struggling mining community, to the halls of the DEA.
"How the Monuments Came Down", October 30, 6 p.m. (Culbreth Theater) – A film revealing the historical roots of white supremacy and black resistance in Richmond since the end of the Civil War. Through personal stories of descendants and history makers, the film uncovers how Confederate monuments shaped the landscape of Richmond and why protesters demanded they come down.
"Truth Tellers", October 31, 1:15 p.m. (Culbreth Theater) – A new documentary film retracing the lives of Americans fighting for racial equity, environmental justice and indigenous rights through the eyes of longtime activist and artist Robert Shetterly.
COVID-19 policies
Masks will be mandatory for all events organized in indoor locations, regardless of vaccination status. For events held at the Paramount Theater, proof of vaccination or a negative PCR test within 72 hours is required, as well as photo identification.
[ad_2]